News > release

Today in New York pop-up shop opening day.
The TINY font family was originally created at over the summer of 2018 as the visual identity for an experimental retail pop-up shop in Chinatown, New York City called "Today in New York", or TINY for short. The shop was the result of an intern project at Verdes, a creative agency, between Jack Halten Fahnestock and Théïa Flynn. There they sold T-shirts and tote bags customized on the spot with a fancy (and stupid expensive) handheld inkjet printer called a HandJet EBS-250.

Printing a customer's message on a shirt.
Two of the HandJet's default typefaces, 16x10 and 7x5, were recreated into usable fonts for mocking up designs on tees and totes, respectively.

HandJet EBS-250 default typefaces 16x10 and 7x5 recreated as fonts.

T-shirt and tote back side mockup using 16x10 and 7x5, respectively.
5x4, the smallest type size found in the HandJet's software using only 5 of the 16 available print heads, was also made. To take it a bit further and really play up the fun of the end product various widths were created but ultimately only used briefly as they were made last-minute.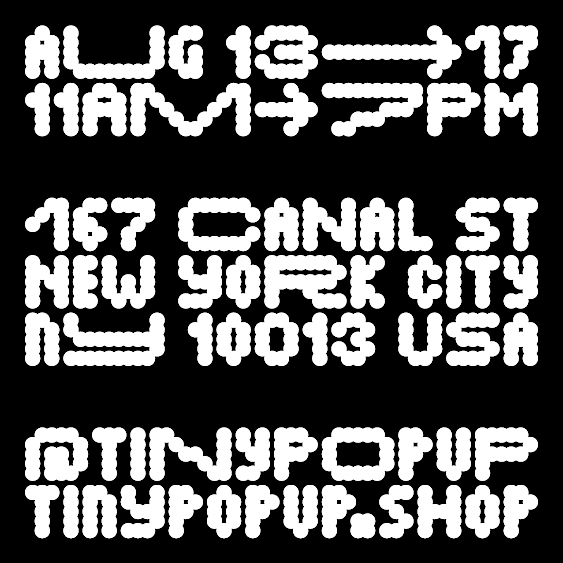 Instagram post showing various widths of 5x4.
TINY 5x3 is just the initial release with a long-term plan to add additional widths up to at least 5x13, and variable axes in future updates. This debut release includes 1300+ glyphs and a variable dot size, which comes from the HandJet's adjustable ink output feature.

Getting carried away w/ excitement and forgetting to adjust the ink level for a thinner fabric.
Stay tuned :)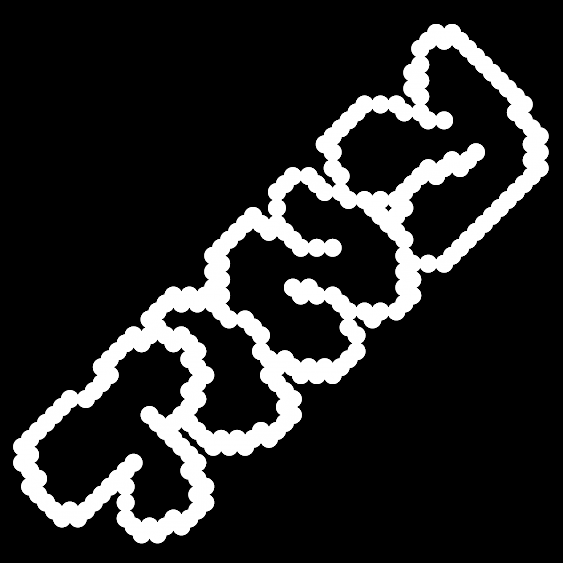 Jérémy Landes draws a psychedelic condensed typeface for Agence Murmure identity
We're happy to announce the release of Le Murmure, Jérémy Landes last libre typeface ! He created Le Murmure for the french design agency Murmure and it's now available for everyone.

Le Murmure is a condensed sans with contrast, a mixed bastard created with editorial use in mind. The way the contrast is used tends to give Le Murmure its own unique voice, both delicate, solid and precise. Le Murmure shows once again that custom open-source projects, and more precisely, custom open-source typefaces can exist. We would like to thank the nice folks at Murmure agency for the chance they gave us to do this project with them and for the freedom they gave Jérémy while drawing.
—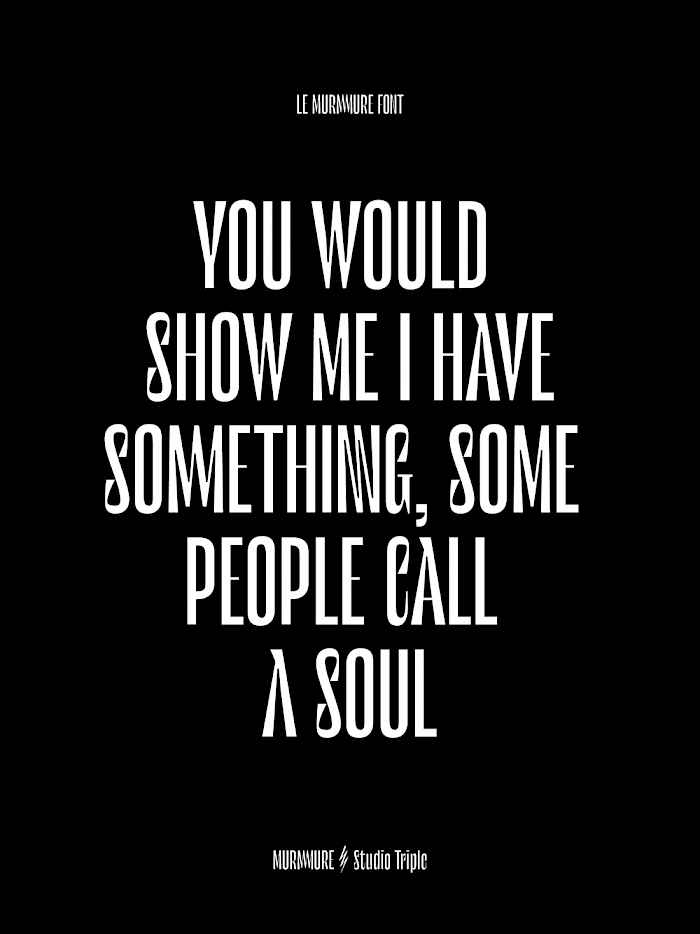 Lack typeface project began in 2012 when Adrien was commissioned by Rio Nebulane, an electronic music band, to create their first album cover.

Rio Nebulane, First album. Design, illustration and typography : Adrien Midzic, 2012.
The fisrt thing achieved for this work was a visual language etablishment inspired by hieroglyph's system. Then, a certain legibility became to be necessary to read at least the band name. So Adrien started to search an option to keep this mysterious visual flavor about hieroglyphs into a custom font. This first fruits are really important in the story of Lack, because the research of the limits of ligibility inside the letterform comes from here.
Logotype for test
The research leads design of some letters to compose the band name Rio Nebulane. After many tests proceed to find the good proportions and legibility, the logotype was ready.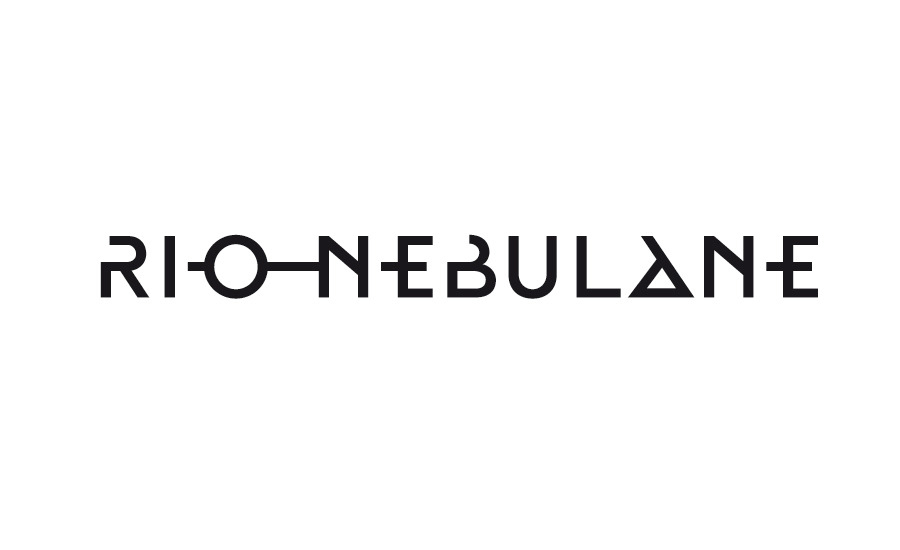 Rio Nebulane, logotype, Adrien Midzic, 2012
Back in time, the first Open Type features
The previous tests offered a large choice of letter forms and Adrien wanted to keep them as much as possible. He discovered the Open Type font format. It was a big joy to play and work with this features for the first time. A stylistics set was added to the Lack.

Sample specimen of VTFLack first edition, Adrien Midzic, 2013
Where put and publish this strange font?
Adrien, really proud of this typeface searched a way to promote it. He found the perfect solution with Velvetyne Type Foundry, the really kind guys fascinated by all typographic fields, indeed the most strange.
So, Lack joined the VTF font catalogue in 2013, and it was the first free-font designed by Adrien Midzic.
It could live her own life and been used by graphics designer to serve their graphic design works.

Africavivre website. Design Clément Lecocq

Lack Specimen, a student work. Design : Maxime Barbier
3 years later, a trip and a new friend
Travels is always a good thing, in 2017, Adrien went in Greece for vacation and had the idea to try to make a greek font on his come back. Lack was a perfect typeface for that. He draw the greek letters inspired by his own shoots. At the same time a russian friend come in his life, and he decides to make Lack a real multilungual font! It helps him to draw the letter to make any mistake, because like the Greek alphabet, Cyrillic is really different.

Annoucement of the greek VTFLack version

Annoucement of the Cyrillic VTFLack version
Lack are being met
So in 2018, both of visuals and linguistics missing of Lack are being met.
VTFLack is now updated, it is a brave, contemporary and experimental typeface. It gives you the opportunity to compose in Cyrillic, Greek and latin. It comes in a single weight with her Italic. It started by extending the first VTFLack font edition, designed by Adrien Midzic in 2013. It works well as a display typeface, but is also designed to perform in all kind of texts sizes. Some crazy surprises are hidden into 3 stylistics sets.
Now the Lack's emblematic set with its crazy uppercases is available in two stylistic sets called O.V.N.I-1 and O.V.N.I-2.
Another set named "Alternate" has also been created, in which alternative forms for some tiny ones are available.