Eric Mourier, the Danish designer and author of the eponymous typography, recently died of pneumonia. At 82, the designer appeared as an elegant person, open-minded and curious.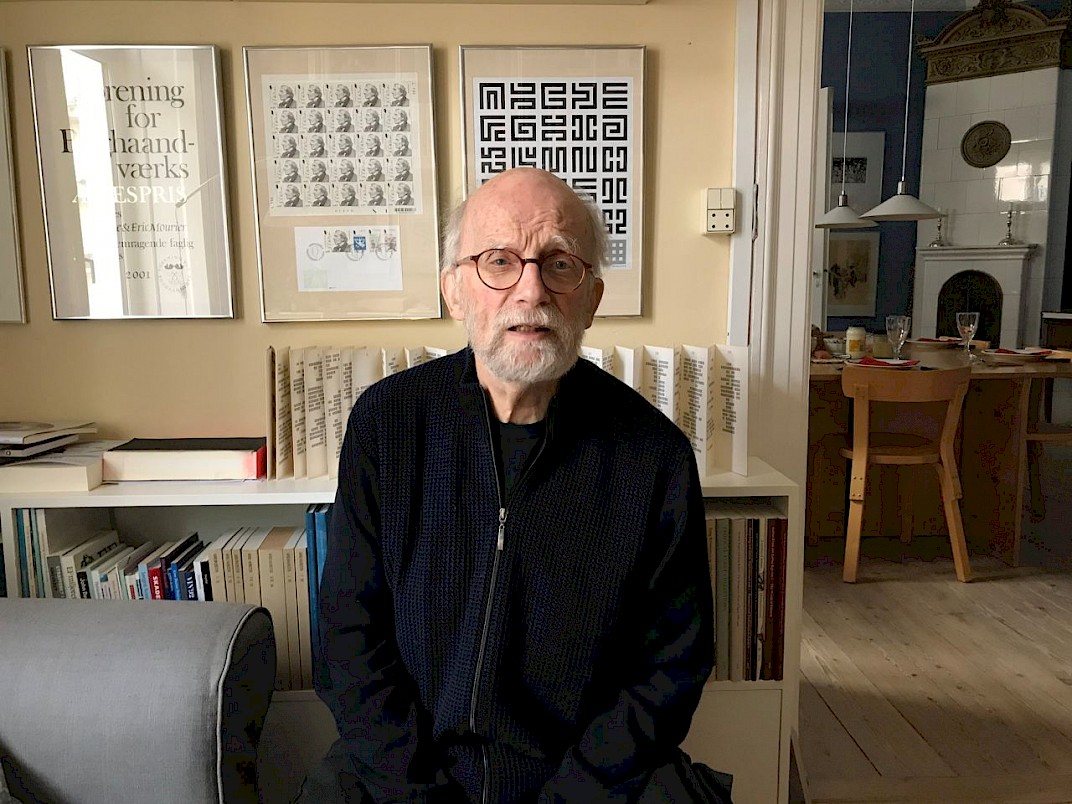 Eric Mourier, Danish graphic designer, b. 1939, who was trained as a lithographer in 1961 at Den Grafiske Højskole (from 2008, The Danish School of Media and Journalism), specializing in graphic design. He then taught at the school between 1966 and 1981, and set up his own design studio with his wife Mette Mourier. Together the pair produced some of the best Danish book designs. They work in a traditional, typographic style with much attention to every detail. They have worked on almost every kind of design assignment, from post stamps to comprehensive, illustrated books. They are the authors of several educational books about book design from traditional offset printing and typesetting to layout and design on a screen. Their book "Book design. Layout and design of illustrated books" was updated and reprinted in 2013 and remains one of the most thorough and pedagogical Danish books about book design.
The revival of the Mourier typeface is a human journey. Sébastien Hayez, one of our first type designers, is also a book collector. In the pages of New Alphabets A to Z, published by Herbert Spencer (also publisher of the magazine Typographica), appears one of the first uses of Mourier. No explanation are printed but the whole casting of this book is a dream team of experimental modernism type design: Tom Carnase, Bob Gill, Wim Crouwel, William Sandberg, Derek Birdsall, Armin Hoffman, Ivan Chermayeff & Tomas Geismar, Wolff Olins, and Alan Fletcher. The Mourier Typeface seems to appear as the most radical type design of the book; its geometry shows a methodical construction and a preference for rational solutions (learn more about the type process here).
Creating the Mourier type was a personal project which took a new dimension when the designer asked Danish writer Knud Holten to write a poem "The Myth about the bird B" in 1970 (learn more about this aspect here). The booklet, bound as a leporello, became the only use of the type: type specimen, piece of experimental literature, a design utopia.
If the design revival was an easy task, finding the contact of his creator was something else. Thanks to the help of Frank Adebiaye, we found the contact of a Danish book publisher, working closely with Eric Mourier, who shared his e-mail.
While designing the original booklet, Eric Mourier explained "The letters have been transferred to film, cut apart, and mounted separately on self-adhesive foil, page by page.".
In an e-mail addressed in 2011, his enthusiasm was vivid:
"It was wonderful and exciting to have the opportunity to set text with my own font! I am very satisfied with the outcome. It is absolutely perfect."
Beyonce used the type on some of her merchandising in September 2020. Mourier reaction was precious:
"It was really a big surprise. Think that you should experience that your alphabet should appear in such a context. It's really amusing, and of course it has attracted attention in the family and among colleagues."
The Velvetyne team hope Eric Mourier's memory will be still alive thanks to his work.
Our thoughts are with his wife Mette, his family, his relatives and all those who had the chance to cross his path.
Sébastien Hayez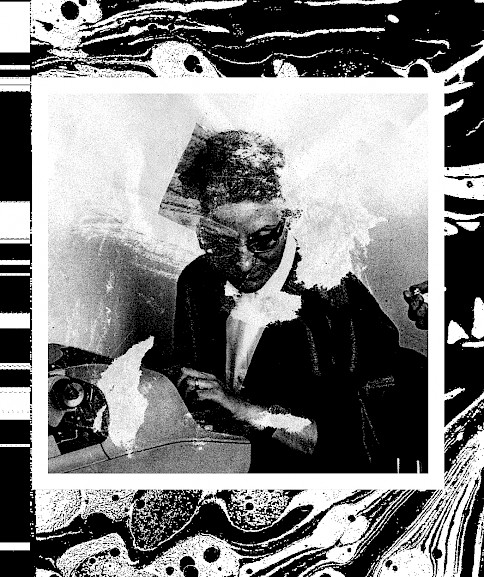 ↓ English below ↓
(FR)
En mars 2022, Velvetyne accueille une nouvelle autrice, Ange Degheest (1928-2009), et diffuse plusieurs revivals de ses caractères typographiques, redessinés, complétés par des étudiantes de l'EESAB — site de Rennes et leur enseignant.
Les six nouvelles familles, dont certaines sont constituées de plusieurs styles sont :
FT88 Regular, Italic, Bold, Expanded, Serif, Gothique et School redessinées par Oriane Charvieux et Mandy Elbé ;
Latitude et Équateur redessinées par Eugénie Bidaut;
Abordage redessinée par Eugénie Bidaut;
Louise redessiné par Luna Delabre et Camille Depalle;
Director Regular, Light et Bold redessinés par Justine Herbel et May Jolivet;
Basalte Fond, Volume et Multicolore redessinés par Benjamin Gomez et Eugénie Bidaut.
L'ensemble de ces caractères permet de retracer le parcours d'Ange Degheest, typographe bretonne oubliée comme de nombreuses autres collègues, dont l'histoire témoigne de la vitalité typographique du XXe siècle, de la variété de ses applications, de ses techniques et de ses outils.
Conjointement à la diffusion de ces six familles de caractères, Poem, la maison d'édition allemande dirigée par Jérôme Knebusch, publie un nouveau pamphlet en anglais sur la redécouverte de ce travail exemplifiant, qui est l'occasion pour Alice Savoie d'aborder l'invisibilisation des femmes et leur rôle dans la production et la création typographique.
Pour en savoir plus, nous vous conseillons vivement de vous le procurer sur le site de Poem ! 
Allez voir aussi la page-web dédiée au projet, développée par Eugénie Bidaut.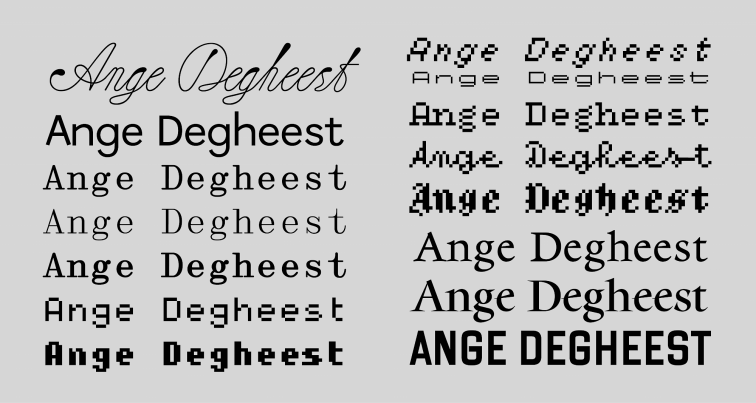 (EN)
In March 2022, Velvetyne welcomes a new author, Ange Degheest (1928-2009), and distributes several revivals of her typefaces, redesigned and completed by students from EESAB — Rennes and their teacher.
The six new families, some of which are made up of several styles, are :
FT88 Regular, Italic, Bold, Expanded, Serif, Gothique and School redesigned by Oriane Charvieux and Mandy Elbé;
Latitude and Équateur redesigned by Eugénie Bidaut;
Abordage redesigned by Eugénie Bidaut;
Louise redesigned by Luna Delabre and Camille Depalle;
Director Regular, Light and Bold redesigned by Justine Herbel and May Jolivet;
Basalte Fond, Volume and Multicolore redesigned by Benjamin Gomez and Eugénie Bidaut.
All these typefaces allow us to retrace the career of Ange Degheest, a Breton forgotten female typographer like many other female-colleagues, whose history bears witness to the typographic vitality of the 20th century, to the variety of its applications, its techniques and its tools.
In conjunction with the distribution of these six typeface families, Poem, the German publishing house headed by Jérôme Knebusch, publishes a new pamphlet in English on the rediscovery of this exemplary work, which is an opportunity for Alice Savoie to address the invisibilisation of women and their role in typographic production and creation.
To find out more, we strongly advise you to get it on Poem website ! 
Here is also the web page dedicated to the project, developed by Eugénie Bidaut.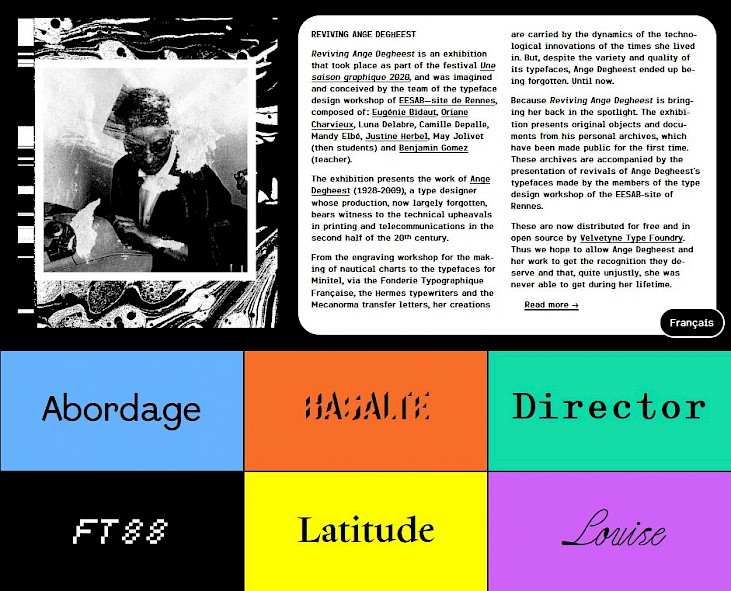 Earlier this year we introduced you to new kind of projects we wanted to release under the Velvetyne umbrella. We gave these projects the name of Non-Fonts Objets or NFOs. Now is time for a new NFO, or Almost Font Object. Let us introduce you to Pilowlava 3D!


Vienna based designer Vincent Wagner of Studio Brot contacted us at the beginning of last summer, offering us something we have never done nore released: to create 3D meshes from one of our fonts and to release them under an open-source license. We were extactic from day one. This project would fit in our project of releasing creative open-source projects that would go beyond fonts while being rooted in our practice. These 3D meshes, as well as our font files, are a tool given to the community. They can be used in 3d renderings, augmented reality (AR), virtual reality (VR) projects, video games, or even cast in plastic or concrete if you want to give it a try.
For his first Velvetyne 3D font, Vincent chose to work with Pilowlava. Its bulbuous shapes directly make you think to inflatable ballons and seemed that they would handle well the constraints coming with 3D rendering. Vincent then created independent 3D models for a wide selection of latin glyphs of the Pilowlava font. Note that this work is not like a simple automatic extrusion. Vincent carefully sculpted every glyph, achieving the rounder and puffier rendering you could get. Note how the z-thickness of the strokes is not uniform, increasing and decreasing with the width of the strokes, but not linearly. The achieved effect is such as the one you would get by bending a metal tube. This work brings Pilowlava into the haptic world.
Those 3D glyphs have been modeled for subdivision. Each single glyph is made from 76 to 786 polygons. This work is released under the Free Art License, meaning that it's freely usable for any personal or commercial use as long as you credit its author, and modifiable as long as you share the modifications under the same license.
Files are available under the .blend .c4d .fbx and .obj formats.
Get/fork the source files here. And find the Pilowalava 2D sources and fonts here.



All images above by Vincent Wagner