News > announcement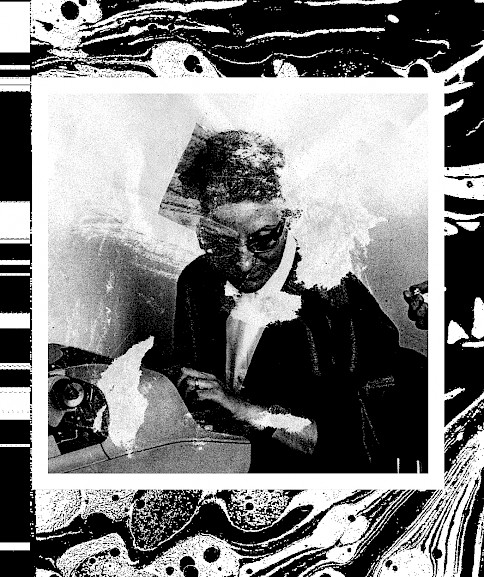 ↓ English below ↓
(FR)
En mars 2022, Velvetyne accueille une nouvelle autrice, Ange Degheest (1928-2009), et diffuse plusieurs revivals de ses caractères typographiques, redessinés, complétés par des étudiantes de l'EESAB — site de Rennes et leur enseignant.
Les six nouvelles familles, dont certaines sont constituées de plusieurs styles sont :
FT88 Regular, Italic, Bold, Expanded, Serif, Gothique et School redessinées par Oriane Charvieux et Mandy Elbé ;
Latitude et Équateur redessinées par Eugénie Bidaut;
Abordage redessinée par Eugénie Bidaut;
Louise redessiné par Luna Delabre et Camille Depalle;
Director Regular, Light et Bold redessinés par Justine Herbel et May Jolivet;
Basalte Fond, Volume et Multicolore redessinés par Benjamin Gomez et Eugénie Bidaut.
L'ensemble de ces caractères permet de retracer le parcours d'Ange Degheest, typographe bretonne oubliée comme de nombreuses autres collègues, dont l'histoire témoigne de la vitalité typographique du XXe siècle, de la variété de ses applications, de ses techniques et de ses outils.
Conjointement à la diffusion de ces six familles de caractères, Poem, la maison d'édition allemande dirigée par Jérôme Knebusch, publie un nouveau pamphlet en anglais sur la redécouverte de ce travail exemplifiant, qui est l'occasion pour Alice Savoie d'aborder l'invisibilisation des femmes et leur rôle dans la production et la création typographique.
Pour en savoir plus, nous vous conseillons vivement de vous le procurer sur le site de Poem ! 
Allez voir aussi la page-web dédiée au projet, développée par Eugénie Bidaut.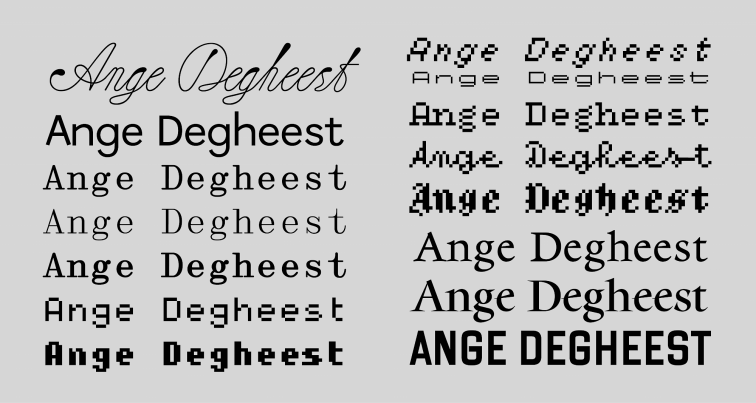 (EN)
In March 2022, Velvetyne welcomes a new author, Ange Degheest (1928-2009), and distributes several revivals of her typefaces, redesigned and completed by students from EESAB — Rennes and their teacher.
The six new families, some of which are made up of several styles, are :
FT88 Regular, Italic, Bold, Expanded, Serif, Gothique and School redesigned by Oriane Charvieux and Mandy Elbé;
Latitude and Équateur redesigned by Eugénie Bidaut;
Abordage redesigned by Eugénie Bidaut;
Louise redesigned by Luna Delabre and Camille Depalle;
Director Regular, Light and Bold redesigned by Justine Herbel and May Jolivet;
Basalte Fond, Volume and Multicolore redesigned by Benjamin Gomez and Eugénie Bidaut.
All these typefaces allow us to retrace the career of Ange Degheest, a Breton forgotten female typographer like many other female-colleagues, whose history bears witness to the typographic vitality of the 20th century, to the variety of its applications, its techniques and its tools.
In conjunction with the distribution of these six typeface families, Poem, the German publishing house headed by Jérôme Knebusch, publishes a new pamphlet in English on the rediscovery of this exemplary work, which is an opportunity for Alice Savoie to address the invisibilisation of women and their role in typographic production and creation.
To find out more, we strongly advise you to get it on Poem website ! 
Here is also the web page dedicated to the project, developed by Eugénie Bidaut.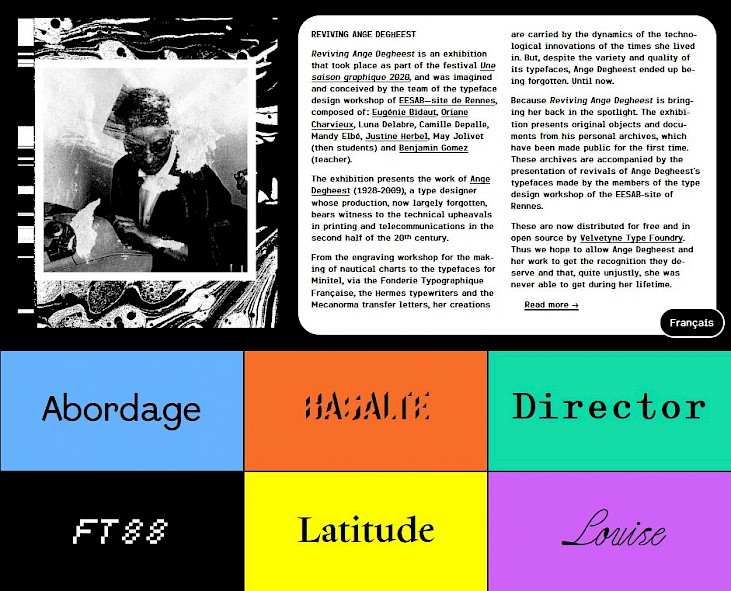 We announced them earlier, here is our first NFO (Non-Font Object). This particular project is a new hybrid model of license created by our dear member Anton Moglia and now carried by the whole foundry. Welcome the Velvetyne Fellowship License!
Why another license?
As a graphic designer collaborating with other designers and creating fonts, I often need to share work-in-progresss creations with friends and collaborators. The problem is that, until now, I didn't know how to control this practice. Sometimes, these creations (such as fonts) were shared without my knowledge and then I lost control of their distribution. I have occasionally seen my unreleased fonts reappear somewhere on the internet. How did these people get there? Friends of friends shared them seamlessly, since there was no license attached.
I thought it might be interesting to encourage this practice, and that it could energize the way people share fonts. "I can give you that font if you want! You can share it with your friends, it's meant to be."
So I realized that it might be a very good way to distribute some of the fonts that I had in my folders. The idea was born:  we can share some fonts, in a demo version, with friends. They can share them with their friends. It can give a little life to typefaces that would otherwise never be released. It's also a way to get early usage examples of a font, which in turn can lead to more enthusiasm towards that font. The only restriction is that the files cannot be publicly released. It has to be something that is shared from hand to hand, like an old hacked movie on a USB drive.
So, what's the deal?!
The Velvetyne Fellowship License allows you to make digital fonts and other creations available to your friends through peer-to-peer sharing. It encourages the distribution, within a defined framework, of any kind of digital creations, that otherwise would remain in designers' folders. These creations can thus spread organically from one friend to another and can be used normally as long as they are not released on a public distribution platform.
This particular licence allows users to employ these creations in commercial and noncommercial projects alike. However, it prevents anyone to post the licensed creations on any website or online repository whatsoever. The only way to obtain their files would be from another fellow. This licence also allows modifications of the creation, but only after asking their original designer. In this sense, this licence is different from traditional open source and libre licences. Any modification can be shared afterwards as long as they are still under the Velvetyne Fellowship License.
It's a distribution model in which each holder of the licenced creative files becomes in turn a distributor and guarantees their availability and conservation.
Why should I use it?
→ You produce digital creations in your free time, as part of your studies or a professional activity.
→ You would like to share them with friends, wether they are students, graphic designers, designers, architects or your family.
→ You are used to sharing ongoing creations with your personal and professional network, but you haven't been able to control the distribution of these files by using a license.
The fellowship license is intended to help you manage this practice.
How to use the Fellowship License?
This repository contains a demo folder to help you create a structure which will contain your creation files and which you can then send to your friends.

This folder also contains the logo of the Velvetyne Fellowship Licence which must appear in the creation files to guarantee its authenticity.

If you share files published under this licence with a friend, feel free to briefly explain its specificity.
————— Globish —————
After several months of collective reflection and debate, VTF is now offering a new kind of publication. We call them Non-Font Objects.
The creation of Velvetyne ten years ago was an impetus to free up practices. Emancipation from a tradition of perfection, asceticism and readability. It was also a celebration of liberated formalism, collective work, of reclaimed spontaneity and perfectibility aesthetics.
For French typography, it was a full-blown entrance into the open-source movement, the adoption of free licenses, the proudly waved flag of authors who work for the commons.
10 years later, the planet is crushed under the weights, foundries are multiplying and questions arise. Do we really need new typefaces to feed the growth of an infinite corpus as our ecosystems crack? To encourage the consumption of digital products, even if they're free? Is the role of a foundry in 2020 simply to push fonts to the world, fill up its catalog or any space available and for how long?
Thus, we change our tune.
On the one hand, we have transformed our type publications policy. Our releases are no longer the product of a disheveled formalism but the expression of our convictions: plurality of scripts, representativeness of genres and cultures, forms stemming from uses and needs. And we think the resulting designs will be even crazier and more grounded in life.
On the other hand, we now alternate our font publications with objects that aren't fonts. We might not know if the world needs new typefaces, but we do know that it needs more tools for creation, sharing, reflections, and, more simply, nudges that nourish desires for the future and collective visions.
So we welcome NFO #1, let us all greet the Velvetyne Fellowship Licence.
————— Français —————
Après plusieurs mois de réflexion et de débats collectifs, VTF propose aujourd'hui un type nouveau de publications. Nous les nommons Non-Font Objects.
La création de Velvetyne, il y a dix ans, c'est un élan qui libère les pratiques. C'est s'affranchir d'une tradition de la perfection, de l'ascèse et de la lisibilité. C'est la célébration du formalisme libéré, du travail collectif, de l'esthétique revendiquée de la spontanéité et du perfectible.
C'est aussi, pour la typographie française, une entrée de plain-pied dans le mouvement open-source, l'adoption des licences libres, le drapeau fièrement agité d'auteurs qui travaillent pour les communs.
10 ans plus tard, la planète est noyée dans les graisses, les fonderies se multiplient et les questions surviennent. A-ton vraiment besoin de nouvelles typos, besoin de nourrir la croissance d'un corpus infini à mesure que nos écosystèmes craquent ? D'encourager la consommation de produits numériques, fussent-ils gratuits ? Le rôle d'une fonderie en 2020 est-il simplement de pousser de la fonte pour gonfler son catalogue et jusqu'où ?
En réponse, nous changeons notre fusil d'épaule.
D'une part, nous avons transformée notre politique de publications typographiques. Nos sorties ne sont plus le produit d'un formalisme échevelé mais le manifesté de nos convictions : pluralité des écritures, représentativité des genres et des cultures, formes issues d'usages et de besoins. Et nous pensons que les dessins qui en résultent seront encore plus fou et ancrés dans la vie.
D'autre part nous alternons désormais nos publications de fontes avec des objets qui n'en sont pas. Si nous ne savons pas si le monde à besoin de nouvelles typos, nous savons qu'il a besoin d'outils de création, de partage, de pensées, et, plus simplement, des coups de pouces qui nourrissent des envies de futur et des visions collectives.
Nous souhaitons donc la bienvenue au NFO#1, bienvenue à la Velvetyne Fellowship Licence.