News > events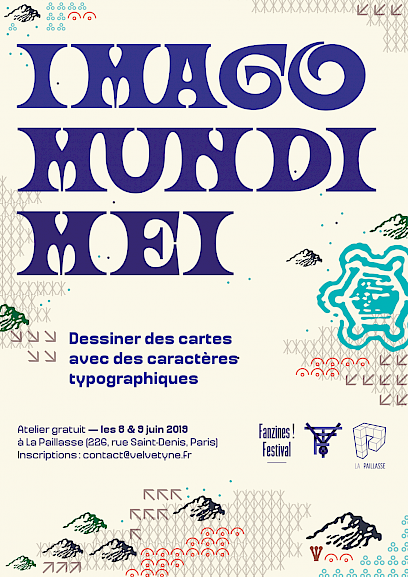 [ENGLISH TRANSLATION BELOW]
Imago Mundi Mei est un atelier gratuit qui aura comme objet l'exploration graphique de deux méthodes méconnues : la typométrie et la psychogéographie. Il est proposé par la fonderie typographique Velvetyne dans le cadre du festival Fanzines! et en partenariat avec la Maison du Libre et des Communs.
Au long de cet atelier, nous concevrons ensemble des caractères typographiques dans un format carré qui, placés les uns à côté des autres (typométrie), nous permettront de dessiner des paysages émotionnels, conceptuels, psychologiques (psychogéographie).
Les participant.e.s sont prié.e.s d'apporter leurs ordinateurs portables pour pouvoir travailler dessus.
Où et quand
L'atelier aura lieu à La Paillasse (226 Rue Saint-Denis, 75002 Paris, métro Strasbourg-Saint-Denis) les 8 et 9 juin 2019.
Inscription
Pour vous inscrire, veuillez écrire un mail à : contact@velvetyne.fr (atelier gratuit limité à 20 places, merci de nous écrire si vous avez un empêchement et vous souhaitez libérer votre place).
Déroulé du workshop : 
Samedi 8 juin :
9h30 : accueil des participantes, café, thé.
10h pile : Présentation des objectifs de l'atelier, présentation sur l'histoire de la typométrie et de la psychogéographie.
10h45 : Distribution de post-it et pluie d'idées pour déterminer les concepts/symboles qu'on développera pendant le reste de l'atelier.
12h30 : Mise en commun des premiers croquis. Pause déjeuner.
13h30 : Retour à la production !
17h : Mise en commun des dessins, distribution du travail pour la journée suivante, joie générale.
Dimanche 9 juin :
10h : Point sur le dessin de caractères sur l'ordinateur. 
11h : Finition du dessin au papier des caractères, début de la vectorisation pour certains.
12h30 :  Pause déjeuner.
14h : création de la bibliothèque de caractères, partage de fichiers, finalisation de la version numérique des caractères. Création d'une petite publication sous forme de fanzine qui servira de guide utilisateur de la fonte (si le temps le permets).
18h - 21h : apéro, exposition des résultats, cartes typo/psychogéographiques partout.
Le caractère typographique créée pendant le workshop sera distribuée librement par la suite sous la forme d'une fonte open-source.
Hourra !
[ENGLISH TRANSLATION]
Imago Mundi Mei is a free workshop that will have as its goal the graphic research of two little-known techniques: typometry and psychogeography. It's proposed by the Velvetyne Type Foundry as a part of the Fanzines! festival and in partnership with the Maison du Libre et des Communs.
During this workshop, we will create together typographic characters in a square format which, placed side by side (typometry) will allow us to draw emotional, conceptual, psychological landscapes (psychogeography).
Participants are asked to bring their laptop computers so we can work on them.
Where and when
The workshop will take place at La Paillasse (226 Rue Saint-Denis, 75002 Paris, Strasbourg-Saint-Denis metro station) the 8th and 9th june 2019.
Signing up
To sign up for the workshop, please write us a mail at : contact@velvetyne.fr (the workshop is limited to 20 people, please tell us if ever you can't no longer come and you wish to give your place).
Workshop program
Saturday 8th june :
9h30 : Reception of the participants, coffee, tea.
10h o'clock : Introduction to the workshop's goals, slideshow about the history of typometry and of psychogeography. 
10h45 : Distribution of post-its and brainstorming in order to choose the concepts/symbols that we'll develop through the workshop.
12h30 : Overview of the first sketches. Lunch time.
13h30 : Back to production!
17h : Exhibition of the first drawings, distribution of work for the next day, general joy.
Sunday 9th june :
10h : Quick presentation about drawing type characters on screen. 
11h : Finishing the drawings on paper of the characters, begining of the vector versions for some of them.
12h30 :  Lunch time.
14h : Set up of the character library, file sharing, preparation of the final digital version of the characters. Design of a small publication (zine) that would act as a user's guide (if the remaining time allows for it).
18h - 21h : aperitif, exhibition of the results, typo/psychogeographic maps everywhere.
The typeface produced during the workshop will be freely distributed afterwards as an open-source font.
Cheers!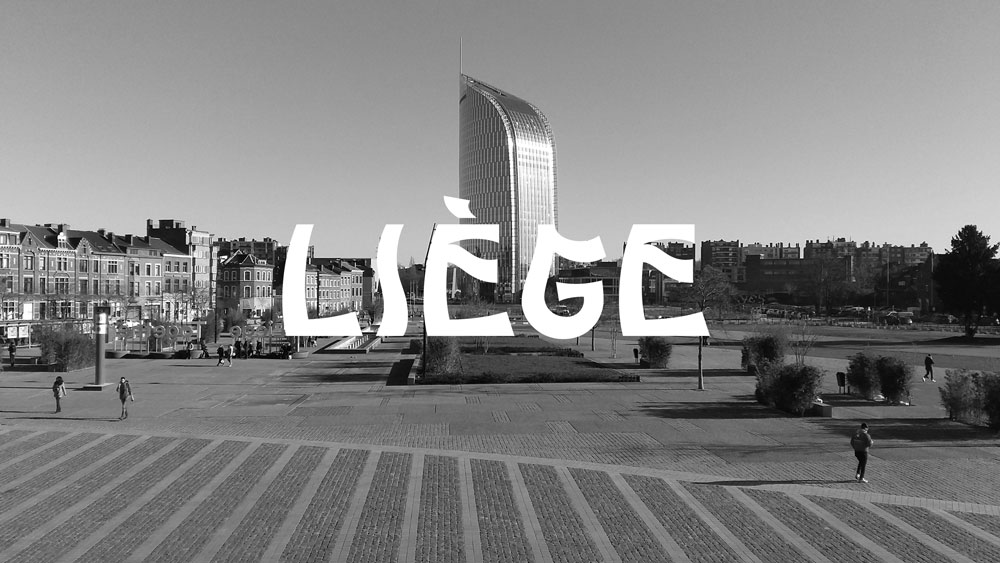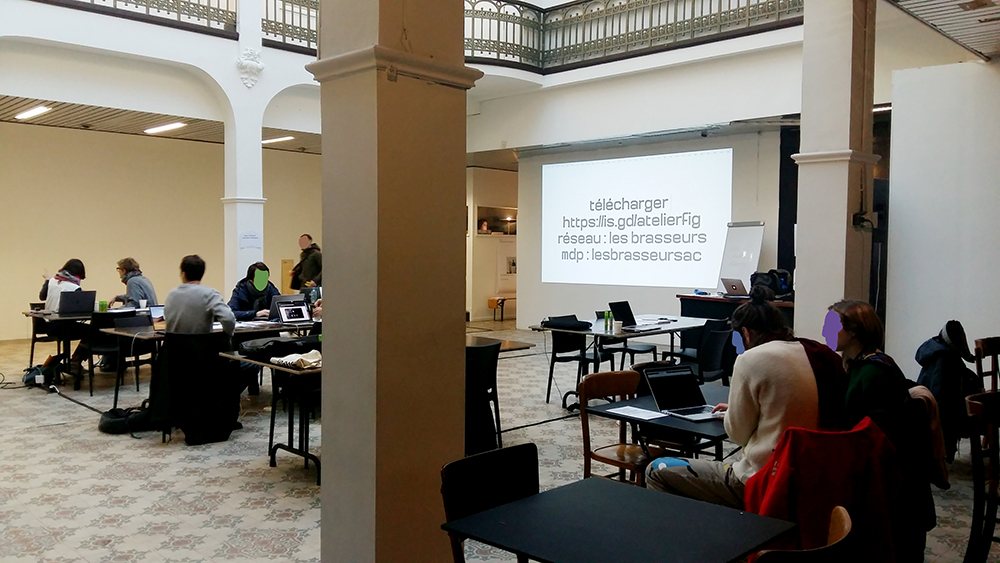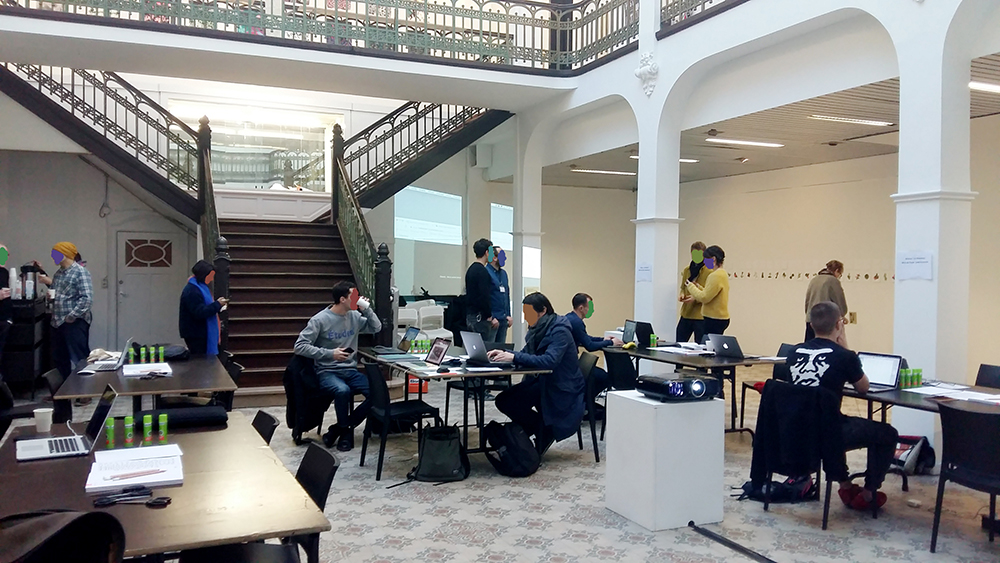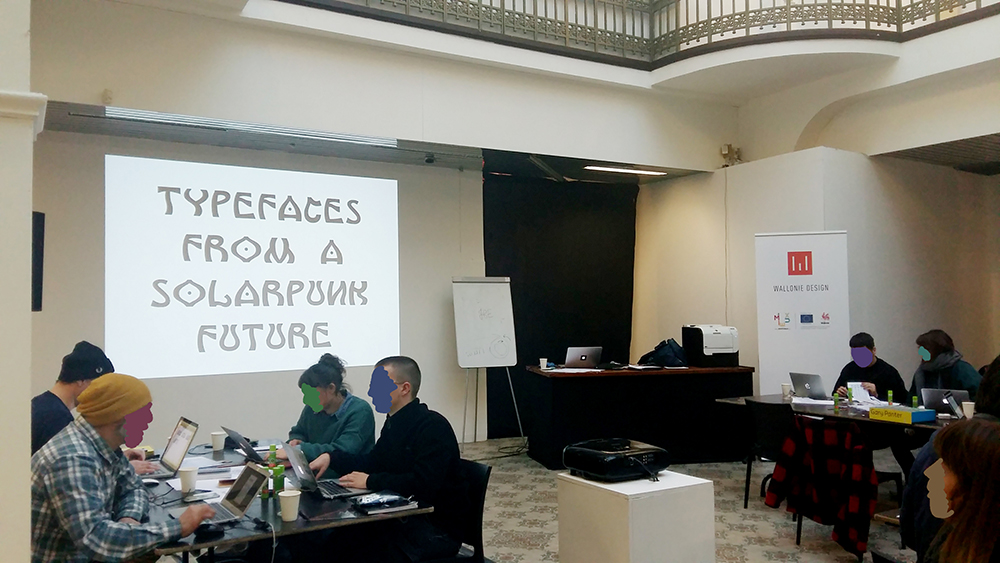 On February the 14th, Velvetyne Type Foundry was invited to give a type design workshop at the Fig. Festival in Liège, Belgium. The goal of the workshop was to learn the basics of type design on the computer, specially vector tracing, spacing and kerning. Thanks for the organizers and for the participants who valliantly tackled such technical matters without even flinching!
For the tracing part of the workshop, a new typeface was created. It's called Brassia (like Brussels, Brasseurs and a botanical genus of orchids), and it's now available for everyone. You can now download it, modify it and use it freely in your personal and commercial projects. If you use it, please mention Velvetyne Type Foundry and its author (Ariel Martín Pérez) somewhere in the credits. Cheers!
For the release of his last typeface, Trickster, its designer Jean-Baptiste Morizot asked 13 different designers to create unique posters. These posters were shown during the release party at la Générale on the 27th of November, 2017.
Each poster is for sale at a very limited edition of 2 copies, A1 format, 40 € port included. Drop us an email if you are interested before there are no more.






Lucas Le Bihan (Dreams Office) | Félicité Landrivon

AAAAA Atelier | Lionel Michée (Studio Feed)

Jean-Baptiste Morizot | Jérémy Landes (Studio Triple)



Gaëtan Baehr | Lauren Coullard & Julien Imbert

Sébastien Hayez | Martin Desinde