Mariant la Truie et l'Ourse : double release party on 27/11/2017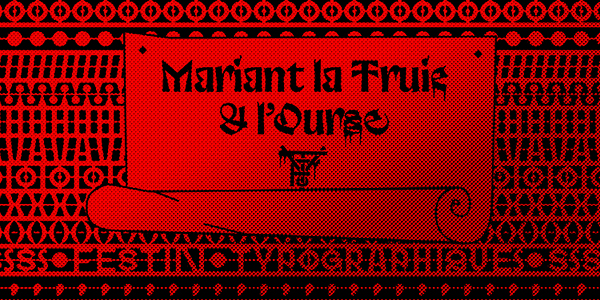 WE'RE PLEASED TO WELCOME 2 NEW TYPEFACES:
TRICKSTER & HYPER SCRYPT
—
If you are in Paris next Monday, come to La Générale from 18:00 to 23:00 for a double release party. We'll launch Trickster, a typeface by Jean-Baptiste Morizot who also created the well known Bluu, and Hyper Scrypt, a typeface from Jérémy Landes, designer of the Solide Mirage.
—
This double release party will take the form
of a double exhibition!

Hyper Chapelle
Hyper Chapelle is an exhibition by AAAAA Atelier whom, inspired by the stained glass of the Metz Cathedral, created a futuristic and psychedelic utopian pop communication. AAAAA Atelier commissioned Jérémy Landes to develop The Hyper Scrypt Typeface for this exhibition. Hyper Chapelle took place at the end of last summer in Tata Gallery in Metz, discover it for the first time in Paris next week.
—

Trickster posters
For the launch of Trickster we asked a fine selection of contemporary graphic designers / studio to express their own vision of this new font via the creation of a poster.
Discover posters from Félicité Landrivon, Studio Feed, Agence Murmure, Dreams Office and much more.  
—
Mariant la Truie et l'Ourse
27 / 11 / 2017 — 19:00-23:00
La Générale
14 avenue parmentier, 75011 Paris, France