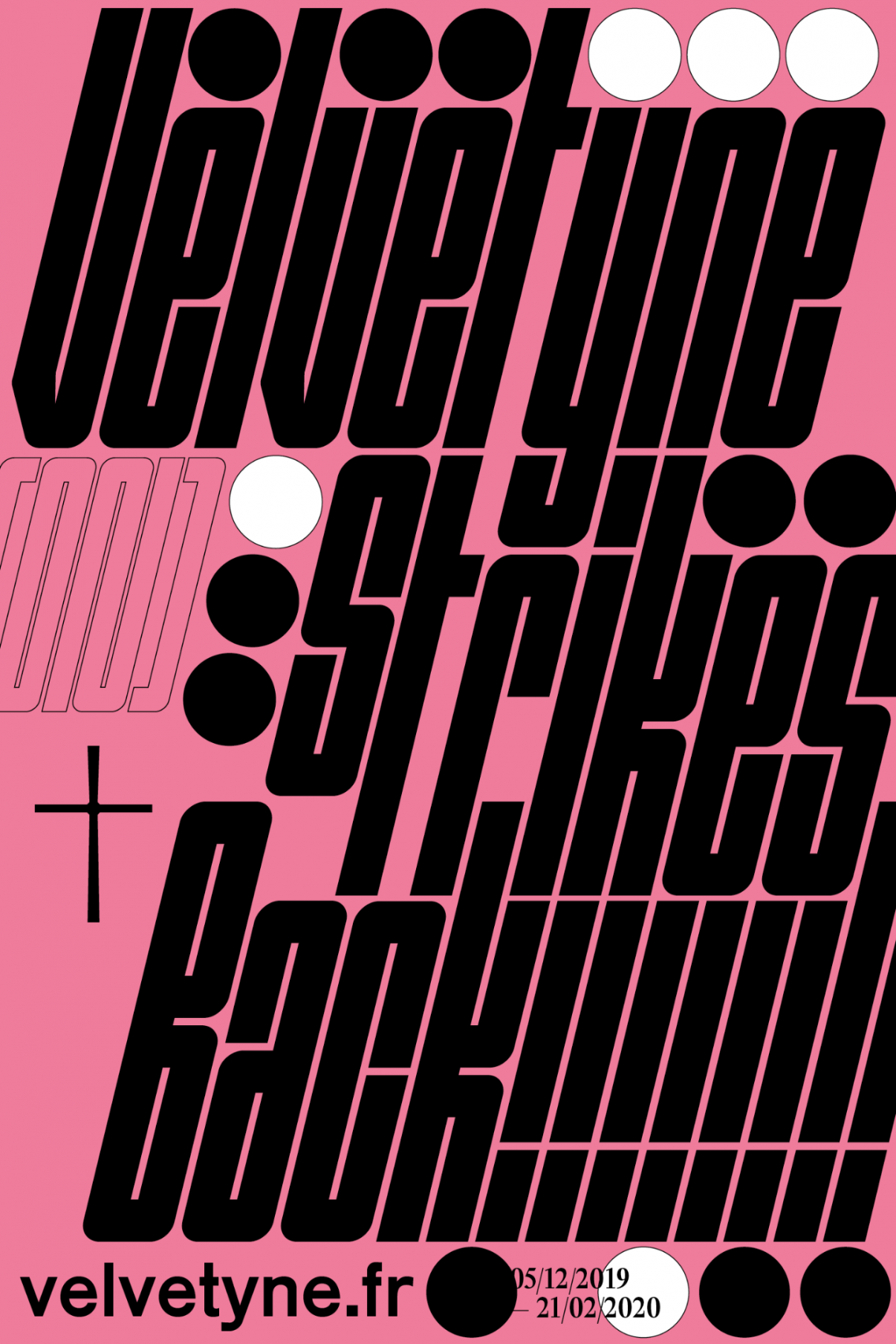 Hi again!
Yes, we're back. Some of you may have noticed that the Velvetyne website was closed since the 05/12/2019, for a bit more than 3 months. Beside some minor short offline moments due to technical updates, this was the first time in our 10-year existence that our website was unavailable. This was not a bug. It was an online strike, that we have decided to end today, so we'll explain you why here.
The reform
This online strike was a continuation of the IRL strike which is still alive in France as we are writing. This social movement is a reaction to a reform of the pension system that the French government is trying to impose on the people. We, at Velvetyne, as many of our fellow citizens, consider this reform unclear, useless and unfair. We still don't understand the motivations of the government behind this reform. The current system isn't actually facing a long-term deficit (source).
Among its numerous "innovations", this reform would:
lead to an increasingly higher age of retirement for every generation to come. That means working until you're 65, 67, 69… years old. That would lead to the incapacity of workers to ever benefit from the pensions they have been paying before the end of their very life…
lead to a loss of around 30% of the monetary value of their pension for the next generation of workers.
increase the inequality between classes by not taking into account the differences of life spans between different job categories.
increase disparities in society by punishing the less wealthy of our society to more precariousness: women, labourers, POC… 
We believe that, by pushing its citizens to work more and until an older age, the French government pretends to increase production. We don't see how this productionist logic can co-exist with the urgent fight that we need to take against climate change and against global pauperization. We don't see how we could solve our climate crisis by making everyone work more, produce more and for longer. Our actual government has done almost nothing to prove that it's taking the environment question seriously and so we ask for a radical change of priorities.
The social dialogue
If we have decided to be on strike for the first time, it's also because it seems that the social dialogue is stuck in France as in a lot of countries worldwide. Strikes and demonstrations have been an historical part of the democratic dialogue in France for about a century. But our latest governments have started to repress these movements with an automatic violence.
In order to perpetuate this violence, the police is making good use of some (pretty recent) war weapons: hand grenades, tear gas, LBD40 (https://maintiendelordre.fr/). The use of these weapons by the police against the people is legal in France in certain contexts. We could question these laws. But that we see is that the Police is not even following their own safety rules for the use of these weapons. Rubber balls are being shot towards the protestors' heads, hand grenades are sent above the crowd; the illegal use of these weapons has frequently resulted in demonstrators injured for life or sometimes even killed protestors or bystanders. For now, not a single of these illegal uses of the violence has been condemned by the justice system.
According to journalist David Dufresnes, since the beginning of the Gilets Jaunes (Yellow Vests) movement (11/2018), The violence that the police has repeatedly exerted (against every public demonstration since then) has led to more than 870 reports of police brutality, leading to 2 deaths, 319 head injuries, 25 blinded eyes and 5 teared-off hands (source). Again, none of these acts have been condemned by the French Justice, while several international organizations such as the United Nations are condemning the French Government because of its use of violence against its citizens.
Even so, the French government is denying the existence of any police violence and it's accusing the demonstrators and the society in its whole to be violent (see the point of view of president Macron about this question). This is not the point of view of the United Nations and of several associations like Reporters Without Borders, who have accused the French government or are suing it for its use of violence.
We are fully aware that France is not an isolated case and that this increasing of the violence of the states in so called democracies is a world-wide problem (Chili, Hong-Kong, Liban, USA…) and our strike fits in a global contest of a crisis of the social dialogue between states and their citizens. We  would like also to acknowledge that theses acts of violence aren't exactly new and where already perpetrated in the past on the more vulnerable inhabitants of our country (POC, immigrants, women) without further reactions from us, the safe ones.
Stopping the strike?
Why did we decide to stop this online strike while the government didn't even to start to question its reform? Because we decided that we wanted to change our strategy in this battle. During these 3 months, we have deprived some of our loyal users from useful open-source tools for their projects and we're OK with that. Velvetyne fonts can be found elsewhere that on our website (gitlab, vk…) and they can be freely exchanged between users as well. This shut-down serves also as a timely reminder that nothing posted lasts forever, a fact that we tend to forget. Decentralization is an answer to the ephemeral dimension of digital objects.
We likewise would like to think that we have encouraged some of you to be aware, or more aware of what's happening in France. But we would want to articulate a bit more the motivations behind our action. We have decided to re-open because one of our main goals is to offer tools for the world to emancipate and blossom. We hope that, by releasing libre fonts as creative projects envisioned by thoughtful authors, we can give access to "indie typography" for people who would otherwise be deprived of it. We are not naive, we know that we are inevitably part of the market economy and that our fonts are used by capitalist companies as much as by non-profit organizations and students. That's life, and we are OK to be part of the world.
And now
This strike has also brought us to question our actions in genera. Thus we have decided to make some changes in the way we function. We are changing our editorial policy in order to decrease the pace of releases for our (libre) consumer goods, as part of an attempt to lower our impact on the world ecosystems. We will also start to publish Non-Font Objects on our website (NFOs?). And we will drastically increase our efforts into welcoming more diversity among the authors that we publish but also among the members of the core of the collective.
We have decided that the donations we will receive between now and the end of the social protests against this reform will be transferred to a solidarity fund for the French strikers. It is our way of helping French workers to bear these claims longer, without falling into misery. You can also participate directly through this fund: https://www.lepotsolidaire.fr/pot/solidarite-financiere
References
The actual version of our website that you have under your eyes has been first designed and coded by Raphaël Bastide back in April 2014. Since then, it has grew a lot, has been slightly updated many times and has seen the number of fonts displayed drastically increase. We love our website has Raphaël made it. Its black and white, its marquees, its blinking look and feel. This website is the cornerstone of our identity and our main link between our fonts and their users.
The increasing size of our catalogue, the increasing diversity of the fonts that join it and the increasing number of styles per families — when we where used to release mainly single-style family — asked for a slight re-thinking and redesign of how we show our fonts.
Here are the main changes
Total redesign of the homepage with the hability to sort and filter our typefaces with many parameters such as the number of styles, release date… This was made thanks to David Desandro's Isotope. We also created a new way to display font-families with numerous styles which put emphasis on a master style.


Wider display. We got rid of our right column to give more room to every page. Some of the content moved to the still exisiting left column when some other moved to our brand new footer.
Body copy font. Thrilled by this font we were about to publish, we decided to change our text font for our newly released Minipax by Raphaël Ronot. It's now used for pretty all the small size and longer texts you'll find on the website. We hope that you'll like it as much as we do. It's almost to comfortable to read, isn't it?
Web specimen. Goodbye our former never-changing template, now each font has it's own web-specimen that shows its particular qualities way better. Those web-specimen will even show you the opentype features embedded in our fonts. Are we in 2013?? Also, goodbye our good ol' test zone, because now every piece of specimen text can be modified by our visitors.


Charset. Our charset now shows every character in the fonts, even the ones without any unicode code, thanks to the opentype.js tool.
Version history. Certain of our fonts have an insteresting story to tell. They been updated, modipfied, upgraded, sometimes by their original author(s), sometimes by different people, over time, during years for some of them. We needed to tell this story. Our new version history section tells what has been made on each version and by whom and gives access to the files of each version! This allows some deep time traveling. We also coded some pretty neat automatic family tree.
Better credits. We now provide more precise credits about the team who worked on each typeface.
Fontlog! You can have an overall chronological view on each release or update that has been made to each of our fonts, since the beginning. Dive inside our history.


 
About section. Our about page became a whole section with sub-pages such as a handy and growing F.A.Q. or a summary of our activities along the years (workshops, exhibitions, publications, awards…). We even had a ressources pages where we will list and add any tool that we used or find handy.
Footer. Let's introduce a plain and simple footer that allows some straitforward navigation threw the pages of our website.
Credits
This update has been mainly designed and coded by Jérémy Landes with some help of Anton Moglia and helpful thoughts and feedback from all the Velveteam. The content has been edited and updated by all the community. Thanks everybody! We hope that you'll enjoy the new look!

Anton Moglia and Jérémy Landes create an organic bespoke typeface for the last issue of Cercle Magazine
We were commissioned by Cercle Magazine to design a titling typeface for their last issue dedicated to the burning issue of Volcanos. Cercle has an history with bespoke typefaces as they ask a different designer(s) to create a new font for each of their annual issues. Together with them, we decided that this would be a libre font (surprise!!!) and that we would release it on Velvetyne the same day the magazine was published. This day was the 26th of April 2019.

Pilowlava is born from intense exhanges between Anton and Jérémy, each of them modifying the first sketches of the other. Anton started with a very curvy and dynamic script typeface that Jérémy calmed down with some tense curves and geometric outlines: strait lines, almost circular curves…

Sketches from Anton (left) and Jérémy (right)

Basic letters and their mirrored or shifted alternates
Pilowlava stays dynamic while being now more contained. The contrast of Pilowlava is always shifting, no singular orientation of repartition of the thicks and thins has been decided. This leads to an always changing text, where you don't really know where the next explosion will come from. This is even enouraged by a set of alternates, mirrored versions of the basic glyphs, shifting again the dynamic. This could be useful for some logo work where you can pick the version of the glyph your prefer.